Houston Mechatronics celebrates new office space with Open House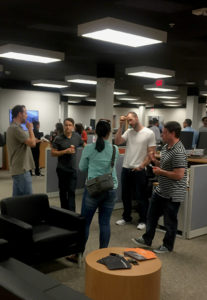 Houston Mechatronics' engineers and their creations have more elbow room following a recent office move, and in April they had the chance to show it off. The robotics and mechatronics company recently welcomed friends, colleagues and clients to the new Webster, Texas office space during an open house.
The move to 17146 Feathercraft Lane, Suite 450, was an opportunity to address growing pains associated with an expanding business, said Matthew Ondler, Houston Mechatronics' president and CEO. Not only did the company double its staff in 2016, but team members also began focusing their efforts on larger, more unwieldy projects such as pipe inspection robots and subsea technologies.
"We ran out of room. It's as simple as that," Ondler explained. "We knew that, if we wanted to continue down our path to growth, we needed an area where our team members could spread out and really flex their engineering muscles."
Houston Mechatronics' new office features an open concept with expanded lab space ideal for the company's rapid prototype approach. A large water tank facilitates subsea development, while numerous meeting spaces provide team members room to brainstorm and design prototypes. In addition, a "dirty lab," which sits just doors down within the same office complex, further aids the development process.
Ondler described the change as bittersweet, as it meant leaving the building where Houston Mechatronics got its start. Still, he said he looks forward to what lies ahead.
"This is a big step for our crew and the clients we serve," he said. "We've got big projects in the works, and we finally have the room we need to see those creations through. The best is yet to come, and I know we're all excited about the future."